Sorry, we are currently completely sold out.
Wholesale Christmas Trees Online
Attention: Brown's Tree Farm currently has stock of all tree types, except for Scotch Pine and White Pine. We currently have a 300 minimum on all orders.
Brown's Tree Farm has been growing and selling Christmas Trees for over thirty-five years! We are a medium size, family owned and operated business located in northern Michigan.
We are involved in both wholesale and retail Christmas tree sales. We also sell wreaths, roping, and garland. Brown's Tree Farm works with businesses of all sizes. Regardless of whether you're looking for a few hundred or several thousand trees, Brown's Tree Farm will be happy to help you in any way we can. Please contact us for Wholesale Christmas Tree pricing.
Large Fresh, Real Christmas Tree Inventory
Brown's Tree Farm currently has a large inventory of full size High Quality, Fresh, Real Christmas Trees. Please view one of our Christmas Tree Photo Galleries to see first hand the quality of the products we offer.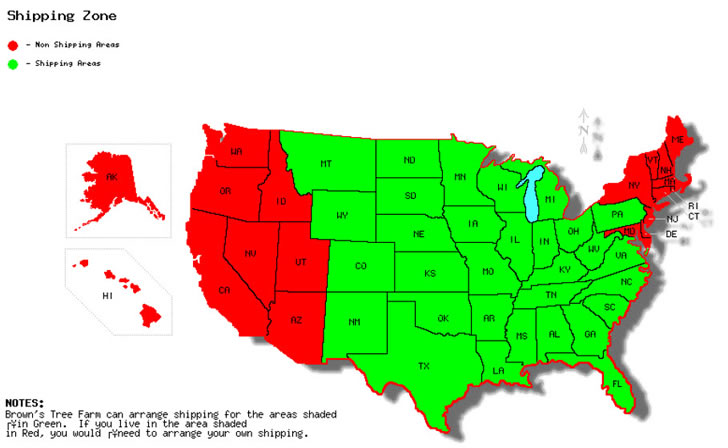 Buy a REAL Christmas Tree and Support Our Economy!
Most Fake Christmas trees (85%) in the U.S. are imported from China. Almost 10 Million fake trees were sold worldwide in 2003.
Most artificial Christmas trees are made of metals and plastics. The plastic material, typically PVC, can be a potential source of hazardous lead.
The potential for lead poisoning is great enough that fake trees made in China are required by California Prop 65 to have a warning label.
While they're growing, REAL Christmas Trees support life by absorbing carbon dioxide and other gases and emitting fresh oxygen. The farms that grow Christmas Trees stabilize soil, protect water supplies and provide refuge for wildlife while creating scenic green belts. Often, Christmas Trees are grown on soil that doesn't support other crops.
View more Christmas Tree Facts...